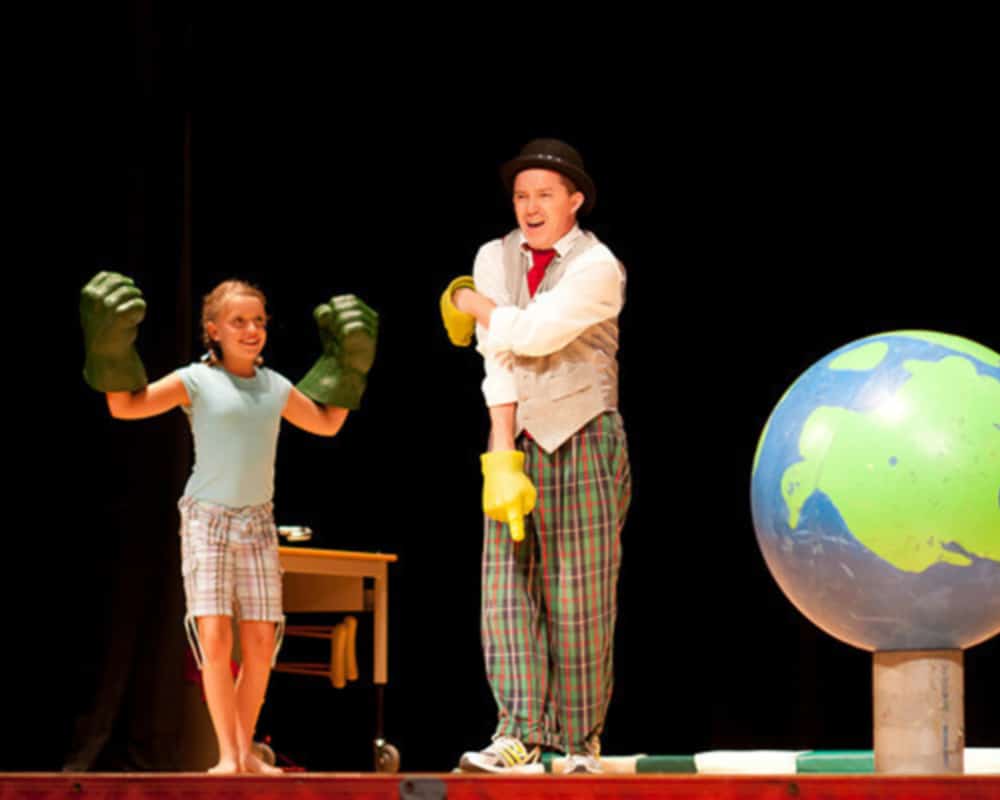 This is a past event
Morse School – Circus!
A delightful theatrical event starring 100 fifth graders from Poughkeepsie's Morse Elementary School.
MORSE SCHOOL – CIRCUS! explores the circus arts of juggling, tumbling, clowning, partner acrobatics, and much more. Students using recycled items have created props for the show for juggling, balancing, clowning and acrobatics. This performance, the public culmination and highlight of a two week in-school residency, is an original circus show created from the students' imaginations.
Theater/Circus Arts Teaching Artist Sean Patrick Fagan has toured the world as a performer, beguiling his audiences in the international language of laughter. He has entertained and educated children of all ages for more than ten years and has worked for some of the premier children's entertainment organizations including Ringling Bros. and Barnum & Bailey Circus, Walt Disney Inc., Nickelodeon Jr. Television, and Scholastic's Magic School Bus Live. Fagan has a "Fun Arts" degree from Ringling's Clown College.
Made possible with funding from The Beechwood Group of Wells Fargo Advisors, Church Communities Foundation, George A. Strba Charitable Trust, H. W. Wilson Foundation, ArtsCONNECT program of Mid Atlantic Arts Foundation with support from the National Endowment for the Arts, Kvistad Foundation, Second Hand Rose, Klock Foundation, Louis Greenspan Charitable Trust, Mid-Hudson Valley Federal Credit Union, Poughkeepsie Community Development Block Grant, Ralph E. Ogden Foundation, Rhinebeck Bank, Stewarts Shops, TD Charitable Foundation, Vassar Brothers Institute, Wells Fargo & Company, and from the Community Foundations of the Hudson Valley: Anonymous Fund; Ann and Abe Effron Fund; Charlie Carroll Music Enrichment Fund; Dutchess Community Grants Fund; and the Ed & Barbara Joba Fund for the Hudson Valley Philharmonic. Additional support comes from the Dyson Foundation, James J. McCann Charitable Trust, Jane W. Nuhn Charitable Trust, and Jeanette F. Schlobach Charitable Trust. We extend special thanks to all of the donors who contributed to the Field-Trip Fund. This program is also made possible by the New York State Council on the Arts with the support of Governor Andrew Cuomo and the New York State Legislature. 
Date & Time
Thursday, May 14 2020
7:00 pm

Pricing
$6 donation – All Seats
Ordering Directions
The Bardavon and UPAC box offices are currently closed to in-person sales but will continue to sell tickets and answers questions via email at BOXOFFICE@BARDAVON.ORG. You can also leave a message at 845-473-5288 Ext.153 and a member of the box office staff will respond as soon as possible.
Online at Ticketmaster : 800.745.3000. Please note that Bardavon Member benefits and special discounts are not available through Ticketmaster. Ticketmaster fees will apply.