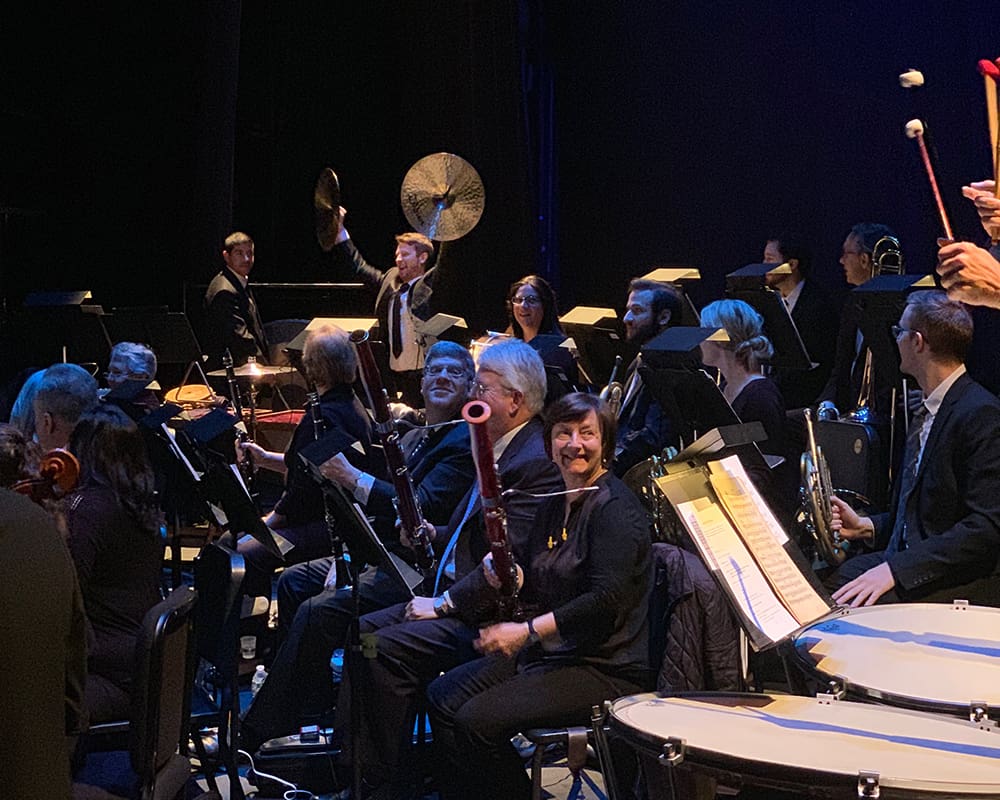 This is a past event.
Young People's Concert – postponed
New Date to be determined
The Bardavon has been closely monitoring the escalation of the Coronavirus outbreak. Our first priority is the safety of artists, patrons, staff, and the broader community. All health authorities clearly emphasize social distancing as the best way to deter the spread of COVID-19; therefore, we have decided to postpone all events at Bardavon and UPAC for a minimum of 30 days, effective immediately. We are actively formulating plans for next steps, rescheduling concert and event dates and communicating with all our patrons. As this issue unfolds we will continue to evaluate the situation and communicate our plans.
Grades: 2nd – 8th
And Still I Rise: Voices of Courage – This interactive Hudson Valley Philharmonic concert engages students through exploration and active musical participation.
Ludwig van Beethoven –Symphony No. 3 in E flat major (Eroica), 1st movement
Jerod Tate– Oohiya Olowan (Victory Songs) for Baritone Solo and Orchestra, 6th movement Featuring Steven Herring, Baritone
Florence Price– Symphony No.1 in E minor, 3rd movement
Ralph Vaughan Williams Tuba Concerto, 1st movement  performed by the Virtuoso in Progress (VIP) winner Benito Vargas
Ludwig van Beethoven –Symphony No. 3 in E flat major (Eroica), 4th movement
Made possible with funding from The Beechwood Group of Wells Fargo Advisors, Church Communities Foundation, George A. Strba Charitable Trust, H. W. Wilson Foundation, ArtsCONNECT program of Mid Atlantic Arts Foundation with support from the National Endowment for the Arts, Kvistad Foundation, Second Hand Rose, Klock Foundation, Louis Greenspan Charitable Trust, Mid-Hudson Valley Federal Credit Union, Poughkeepsie Community Development Block Grant, Ralph E. Ogden Foundation, Rhinebeck Bank, Stewarts Shops, TD Charitable Foundation, Vassar Brothers Institute, Wells Fargo & Company, and from the Community Foundations of the Hudson Valley: Anonymous Fund; Ann and Abe Effron Fund; Charlie Carroll Music Enrichment Fund; Dutchess Community Grants Fund; and the Ed & Barbara Joba Fund for the Hudson Valley Philharmonic. Additional support comes from the Dyson Foundation, James J. McCann Charitable Trust, Jane W. Nuhn Charitable Trust, and Jeanette F. Schlobach Charitable Trust. We extend special thanks to all of the donors who contributed to the Field-Trip Fund. This program is also made possible by the New York State Council on the Arts with the support of Governor Andrew Cuomo and the New York State Legislature. 
Date & Time
Wednesday, March 18 2020
10:00 am
Showtime in
Pricing
New Date TBD
Schools and Members $7.00
Child $7.00/Adult $11.00
Ordering Directions
INDIVIDUAL TICKET BUYERS:
Please email aborman@bardavon.org or call Adelina Borman at 845-473-5288 ext. 106 with your credit card information.
All patrons regardless of age must purchase admission.
You will receive confirmation of your purchase by email.
SCHOOLS:
An INVOICE/CONFIRMATION will be sent by email confirming your order - please adhere to the payment guidelines and due dates.
Changes to the number reserved or cancellation must be made in writing 45 days prior to the event.
Payment is due 30 days prior to the event.
No refunds or exchanges will be made after the 30 day deadline. The teacher or individual making the reservation is the contact person and is responsible for assuring that payment is made by the deadline.
Buses will unload and load in the front of the theater.
For more information visit our School Residency Programs, or contact Adelina Borman/Director of Education (845) 473-5288 extension 106
Email:
ADELINA BORMAN